In law, much and according to some too much is taken for granted. The Criminal Prosecution and Capital Punishment of Animals – originally published in 1906 and recently reissued in abridged form under the title Animal Trials by Hesperus Press  – explores the law's beliefs in criminal responsibility, the nature of legal subjects and the mental element of criminal offenses.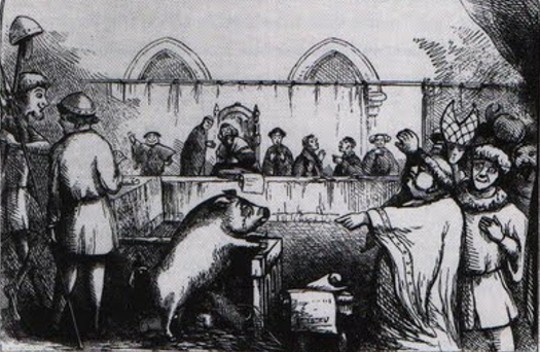 The book written by Edward Payson Evans presents a range of baffling trials against animals between the 14th and the 16th century in continental Europe. Especially in France and Switzerland, many a pig as well as other animals including dogs, bulls, asses and goats faced criminal prosecution for injuring or killing humans. Other animals such as a donkey, which was acquitted on grounds of its 'virtuous' conduct, were tried for bestiality. Less fortunate animals were burned at the stake together with the human co-perpetrators. Whilst these offences were dealt with by secular courts even more bizarre proceedings were taking place at ecclesiastical courts, which conducted the so-called 'vermin trials' against insects 'mostly at the behest of despairing farmers whose remedies had failed to rid their fields of the critters' (Grayshott, p. 38). Although capital punishment against locusts or termites was obviously difficult to administer, the ecclesiastical courts had a range of metaphysical sentences such as excommunication at their disposal.
These trials at the cusp of the Modern Age raise fascinating questions about the boundary between humans and non-humans, which seems to have been more instable then, and the mental element needed to establish criminal responsibility contemporary courts are still struggling with. It also speaks to the current debate about animal rights because the pig that can be tried for manslaughter can also employ legal means to stop men from slaughtering it.
Which age is more human? Our present post-Enlightenment where we rarely question the industrialised mass killing of animals at a mindboggling scale or the supposedly dark ages that afforded pigs and insects far-reaching fair trial rights with legal representation and a will before they were hanged, crucified, burned at the stake or even worse – excommunicated?
See the hilarious review on The Criminal Prosecution and Capital Punishment of Animals by Michael Grayshott titled 'The Pig Walked Free' in the London Review of Books (vol. 35, no. 2, pp. 37-38). For further light into these trials, see also Peter T. Leeson. 2013. 'Vermin Trials', Journal of law and Economics 56: 811-836  and Piers Beirne. 1994. 'The Law is an Ass: Reading E.P. Evans' The Prosecution and Capital Punishment of Animals', Society and Animals: Journal of Human-Animal Studies 2(1): 27-46.